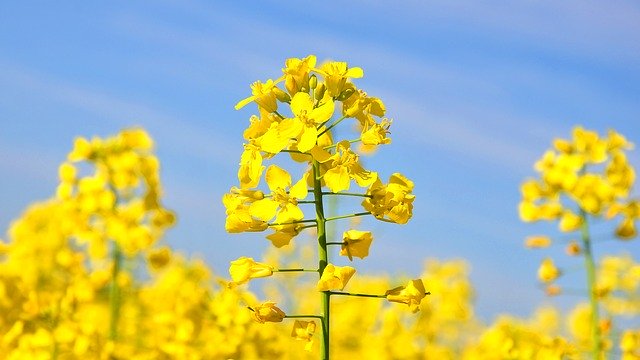 Industry
Canada is the top producer of canola around the globe. The industry contributes over $26 billion annually to the national economy and, in 2018, Canada produced over 20 million tonnes of canola from over 23 million acres.
Global production of canola/rapeseed has expanded rapidly in the past 60 years and rapeseed is now the second-largest oilseed crop in the world after soybean. Primary canola products include oil for human consumption and meal for livestock feed and there are emerging market opportunities for the crop in industrial and biofuel markets.
Although the Western Canadianexpanse of canola production has increased significantly in the last half-century, Eastern Canadian canola production has been slower to expand. Canola is a well-established Canadian oilseed crop but there are still many questions to be answered in Eastern Canada regarding the long-term sustainability of the crop. Challenges to the expansion of canola production in Eastern Canada include lack of site-specific agronomic knowledge and the economic factors of canola oilseeds. In order to maximize the benefit of global opportunities in canola, producers in Eastern Canada need to address some production challenges. ECODA and our partners are essential contributors to this research and developing and expanding markets for Eastern Canada's canola industry.
Research Focus
ECODA canola research builds on a great deal of information gathered in the previous GF2 funding round and examines a range of agronomic challenges including pest and disease management, nutrient analyses and sustainable rotations.
Targeted nutrient use research will provide effective and sustainable crop input technologies leading to improved agricultural sustainability and output, reducing the environmental footprint of Canadian crop production. These technologies are particularly important for Canadian canola producers, as they will allow improved crop growth under a range of sometimes challenging conditions, that we often experience in Canada.
Starting in 2010, clubroot became a significant problem in Eastern Canadian canola fields, significantly reducing yields. In subsequent years, clubroot became so widespread in Prince Edward Island fields that growing GMO-free canola became unprofitable. Currently, GMO-free canola acreage is limited to 800 acres and continues to decrease because clubroot-free land is becoming less available. The reduced capacity to produce GMO-free canola seed and oil on a competitive scale seriously hampers the industry, which could easily exceed a value of $2 million if clubroot resistant GMO-free varieties were available. ECODA research moves toward the development of non-GMO clubroot resistant varieties.
Swede midge research focuses primarily on learning more about the biological control potential of Synopeas myles and factors affecting its abundance. The project will make growers and crop scouts aware of methods to detect the parasitoid in canola fields so that it can be integrated into pest management decisions. Results will contribute to recommendations for growers on best management practices for swede midge control in canola. This project will improve current pest management practices against swede midge and help to reduce yield losses in canola.
Rotational studies aim to assist agricultural producers struggling to maintain a balance between profitability and sustainability. There has been an increase in the number of non-traditional crops, which are now part of the cropping landscape. Many factors that drive cropping system decisions are based on short-term profitability rather than long-term sustainability, and as higher value crops emerge, it is important to understand how the introduction of these crops on the landscape will influence potato quality and yield.
These ECODA projects were funded by industry with substantial support from one of the following Agriculture and Agri-Food Canada programs: AgriInnovation Program (2013-2018), Agricultural Innovation Program (AIP 2012-2013); Developing Innovative Agri-Products (DIAP 2010-2013).
ECODA's canola projects are listed under:
ECODA's soybean-related projects are listed separately.